How does co-buying compare to renting, e.g. on a $700k unit?
Me and my friend Leo are based in NSW and would like to buy a house together to get onto the property ladder. We are both first home buyers and have $60k each, from personal savings & we both earn approx. $60k each.
Thanks,
Toby
Answer:
Assuming before tax salaries of $60,000 each, a combined credit card limit of $10,000 and an annual living expense of $20,000 each, Toby and Leo can borrow up to approximately $620,000 (based on an interest rate of 6.00% and a loan period of 30 years). With savings of $60,000 each, the duo can potentially purchase a property worth $710,000 as approximately $30,000 will need to be paid in stamp duty and fees. However, stamp duty may be exempt depending on the purchaser's eligibility as First Home Buyers and the final purchase price of the property.
As first home buyers, Toby and Leo will be entitled to benefits but will vary depending on the state that they purchase in. In NSW, the First Home Buyers Assistance scheme provides eligible purchasers with exemptions on transfer duty on new and existing homes valued up to $650,000 and concessions on duty for new and existing homes valued between $650,000 and $800,000. Based on a purchase price of $710,000, Toby and Leo will pay a discounted stamp duty of $12,590, representing a saving of $14,850. Toby and Leo will also be entitled to the First Home Owner Grant (New Homes) scheme should they purchase a new home or build their own home. The First Home Owner Grant Cap for new home purchases is $600,000 and $750,000 in total value if they decide to build a new home.
Therefore, if both are First Home Buyers, the maximum purchase price is approximately $730,000.
Owning vs Rent
The rental cost on a $710,000 property is approximately $550 per week, which is equivalent to a yield of 4%. The financial benefits of renting are that you do not have to pay council, water and strata (if applicable) bills, however the owner of a property will come on top should the property price increase. The scenario below shows you the final result of renting versus owning a $710,000 property over a three-year period. The owner comes out on top with a gain of $5,414 while the renter 'lost' $96,600 over the same period. The capital growth assumption used is 5% p.a. and whilst we appreciate that market goes in cycles and 3 years is too short of a time frame to account for a full cycle, 5% does seem to be a relatively conservative figure given property prices gained 8.1% every year since the early 1960s (according to Bank of International Settlements).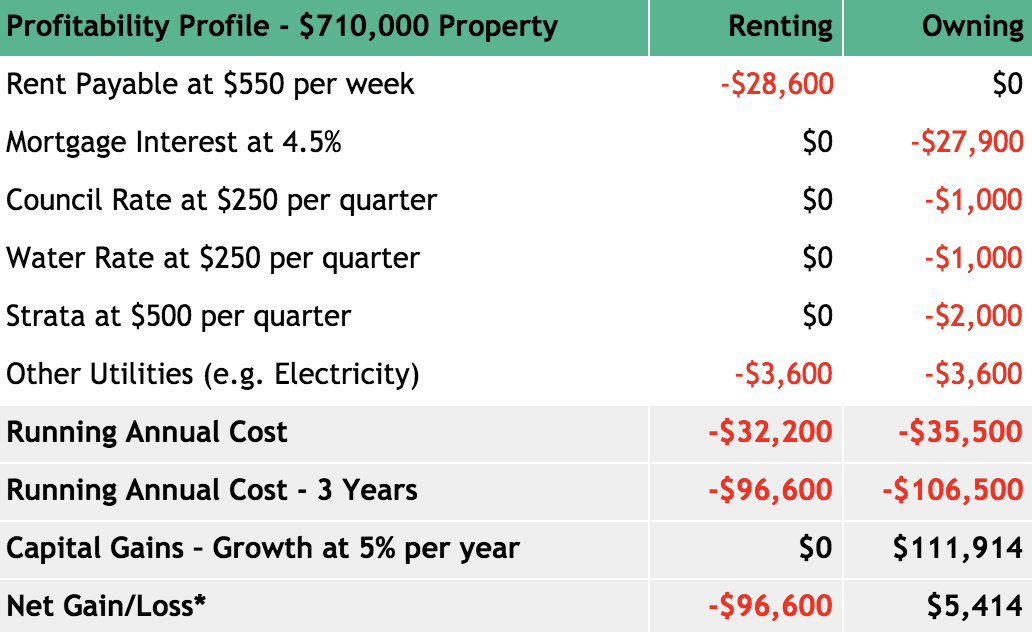 *Assumes that Toby and Leo live in the property and treat it as their principal place of residence. Capital gains tax may be applicable on the gains made if the property is treated as an investment.
Disclaimer: Answer provided by Blue Diamond Financial Services
Find More Answers